This blog is my fashion journal. I will post outfits that I wear, outfits that I adore and clothes that I purchase and give my opinions on them. I've never blogged before and I'll just see how it goes.
I think it's such a fun way to express who you are through what you wear. You should always wear clothes that make you feel confident and happy and reflect who you are. I think fashion is essential in everyone's life. Not only that you look good but it can really make a difference to the way you feel. I really enjoy fashion; styling outfits and collecting pretty clothes/accessories.
Blair Waldorf is a big style icon to me. She has a big influence on the way I dress.
Blair Waldorf played by Leighton Meester- I absolutely love the clothes Blair wears on Gossip Girl. She always looks so polished, prim and proper. She has a sophisticated chic style, that sometimes embodies the gamine look of Audrey Hepburn. Blair always looks so elegant, youthful and chic. Very appropriately dressed in a lady like manner. Her style sometimes changes to a very youthful, feminine and girly style portrayed through floral prints, bows and ruffles. The clothes Blair wears certainly reflects her personality and who she is. She always surprises me with what she wears, and I appreciate and adore each outfit that she wears. She is one of my favourite characters on TV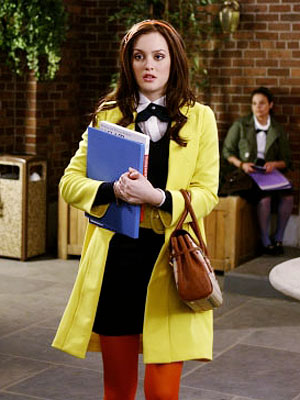 She makes this outfit so fun with the fresh pop of colours.
This outfit is so elegant. Classic black and white. I love the sequined skirt and that blouse is just lovevly